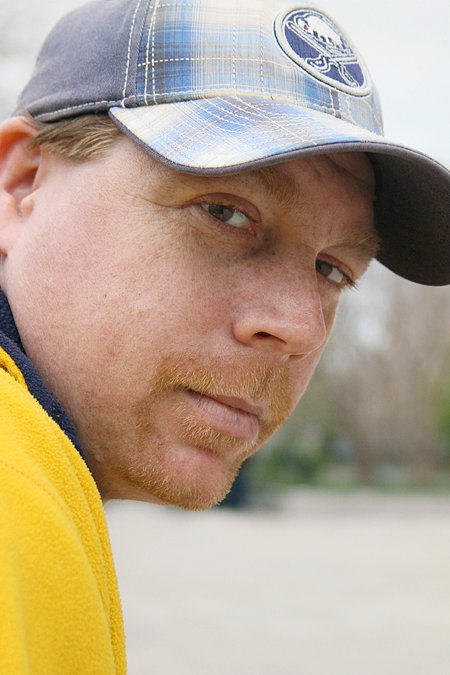 Just one of many Sabres hats.
I wear a lot of hats.
That's not a metaphor, although it is true in that sense, as well. No, I literally mean I wear a lot of hats.
I've had a love affair with baseball caps since a young age.
I don't recall how old I was when it happened, but I was told in my youth that people in baseball caps never amount to anything. I decided then and there that I would be successful — while wearing a baseball cap.
The majority of my hat arsenal is comprised of Sabres hats. Blue and gold mostly, although I do have a few of the black and red variety. In all, I have nine Buffalo Sabres hats. Some were gifts, but most of them I bought myself.
I wear them during hockey season. And football season. And baseball season. I'm not sure when cricket season is, but I wear them then, too.
Yes, I wear other hats, but mostly, I like to stick to the Sabres ones. They're the ones I'm the proudest of. My hockey runs deep.
I like to travel, at least to the degree my budget allows me to. I've worn my Sabres hats in almost every city I've been to. A week ago, it was Washington, D.C. And sitting in the Air and Space Museum having lunch, my girlfriend pointed out another guy in a Sabres hat. Instant connection. We ended up running into that guy and talking very briefly. The conversation went something like this:
"Nice hat. Go Sabres."
A couple summers ago, I wore a Sabres hat to Toronto when I ran into a guy in a Maple Leafs jersey. Suffice it to say, he was not nearly as impressed with my hat as the guy in D.C. was. In fact, I recall getting into somewhat of a verbal altercation with Toronto guy. I generally try to steer clear of altercations, but he was speaking ill of my team. And, really? He's a Leafs fan.
A few years ago, I wore my Sabres hats in Philly. Also, Boston, New York, and Cleveland. You get the picture. I'm a Sabres fan all the time. Everywhere I go.
I always find it interesting this time of year how many people have Sabres hats. Seems to be a lot more Sabres hats (and T-shirts and jerseys, etc.) in early to mid-April than there are in, say, mid-November.
Some people get upset with the "bandwagon" effect that comes with any playoff run. I don't really mind at all. I like suddenly having something in common with almost everyone in Western New York.
I haven't bought a new baseball hat in well over a year. It was a Sabres hat. A green one. Two, actually. I was at a game with a friend and I found a green Sabres "slug" hat, so I bought it. Then I found a green hat with the original logo on it. So I had to buy that one, too.
I'd like to buy a new one soon. I'd really like for it to say "Buffalo Sabres — Stanley Cup Champions." Hopefully they'll make one like that.