I hate the Rangers. I hate the Flyers. And as much as I'm going to hate the Winter Classic this year, you know I'm going to watch it.
At least I will have been at the Sabres' game the night before.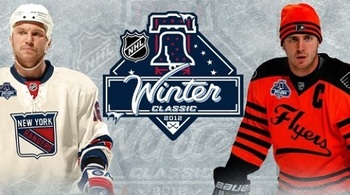 Rangers to ring in New Year at Classic: The worst-kept secret in hockey is now as out in the open as the Rangers and Flyers will be on January 2, when they play in the NHL's fifth Winter Classic. "The Rangers-Flyers rivalry is one of our very best," said NHL commissioner Gary Bettman, who finally made it official on Monday at Citizens Bank Park, site of the game.