It was far too nice to stay home and watch Scrubs all day (
although I did some of that this morning
), so I dusted off my bike and took it out for a spin. First time this year, so I had to do a little maintenance and put some air in the tires. Chain could still use some oil, but other than that, it's in decent shape. Well … I need a new water bottle, lock and air pump. But other than THAT …
Nothing like a ride to clear your head and get your blood pumping. And it's funny the things you notice at 10 miles per hour that aren't quite so clear at 30 MPH.
I used a program on my phone called "
Map My Ride
." There's several different programs by the same company: Map My Run. Map My Walk. Map My Fitness. Map My Hamster … okay, I may have made that last one up. Anyway, I accidentally stopped it in the middle of my ride, so I have two maps (below) instead of just one. BUT if you combine them, I went 9.46 miles in just under 66 minutes. Not too shabby.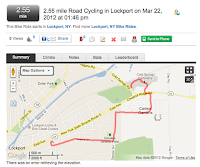 –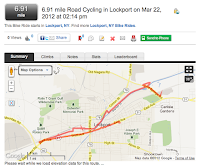 Things I noticed:
If you smile at people, they smile back
Bikes are invisible to cars
Stop signs and red lights are merely recommendations
All the problems I had before my bike ride, I still have, but in that hour and a half I was out on my ride, my only concern was "Oh, dear God, don't let me slide under that car"
When you're going up a hill, it seems like you've been on that incline forever
The second you hit the peak and start going down hill, you forget you were ever sick of peddling up
The view on a bike ride is much better than the view while Gazelling
The flowers sure are blooming early (at right)
Cold Springs Cemetery is beautiful and would be a great place to go with Heather for photos
The path along the Erie Canal in Lockport takes some odd turns. They should rectify that. (More on that later)
They should fill the canal up. There's no point in waiting
USUALLY water is an ingredient for me, but after a workout, I drink a gallon of it
I was smarter while I was on my ride
This list was longer in my head