The new(ish) Walgreens app for Andoid seems to understand what it is people want.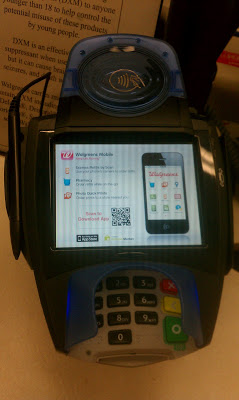 Walgreens smartphone app is easy to
download and heavily promoted.
First of all, the app is heavily promoted in their ads, emails and throughout in-store POS materials. There's a QR code on everything making it easily downloadable in just a couple of taps.
Once downloaded, you enter your email and password (if you have a Walgreens.com account) and you're off and running. You can fill prescriptions using your phone's camera, order the photo you just took at the park and pick it up on the way home, and use your GPS to determine what Walgreens is closest. You can also look at their weekly ad, get exclusive coupons, etc.
Many stores have their own Android app. Walmart does. Target. Best Buy. Etc. But not of them seem to have fully invested in their app to the degree that Walgreens has. Walgreens has worked their app into everything and they've worked everything into their app.
It's nice to see that there are some companies that aren't afraid of the internet, social media and smartphone apps. Seems to me like most big corporations just don't get it. Either they minimize the importance of new technologies or they overindulge, putting all of their eggs into one basket, which they swing around in hopes of dazzling people. Most often, they jump onto the bandwagon too late, afraid of looking like fools getting into something too early.
What do you think? What big company actually "gets it?"
By the way, the (almost) part of this is that the app doesn't seem to work on a lot of tablets and my phone had connectivity issues using wi-fi.