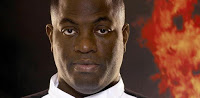 I have to tell you, I'm really disappointed in the fact that Niagara Falls' own Bobby Anderson was dismissed on tonight's episode of Hell's Kitchen.
Anderson was one of the show's strongest contenders from the beginning of the season, but one bad dinner service cost him his dream job.
The 37-year-old Wegman's executive chef recently told Mark Scheer of the Gazette, that his recent stint in television has opened up several avenues, including a possible book deal and opportunities to work in several restaurants across the country. For the full story, printed April 18, click here.
I spoke with Bobby by phone tonight. He obviously feel Chef Gordon Ramsay made the wrong choice, and agreed to be my guest tomorrow morning at 10 a.m. on Reason on Hometown 1230, WECK.
By the way, Anderson was one of two WNYers among the 12 contestants of this season of Hell's Kitchen. Twenty-eight-year-old Shayna was dismissed from the show during the season's sixth episode.