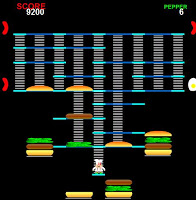 For those who haven't visited the forum … or who haven't checked out the arcade in the forum, I wanted to let you know, I've been wasting a lot of time playing Burger Time since I added it a few days ago.
I'd love to see some friendly competition there.
It looks like you have to be a member of the forum to play … but that's okay, cause the more members we have in the forum, the more games I can add. For every 10 members, I can add another game. Right now, we're at 11 … so nine more people means another game.
Plus, the conversation in the forum is fun, interesting, intelligent … and best of all, civil. You can contribute to any of the topics or start your own.
You don't have to be a member of the forum to read or even to respond to most topics … but you do have to be a member to read or post in the "members only" section (hence the name).