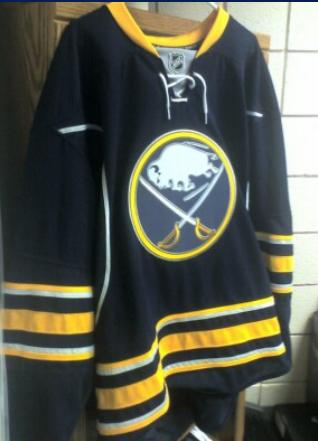 In a Buffalo News story by Alan Pergament, it was revealed that Sabres Play-By-Play man Rick Jeanneret will be around for at least two more years.

In other news, Quinn said that play-by- play man Rick Jeanneret has signed a two-year contract extension. His contract and the contract of analyst Harry Neale now will expire at the end of 2009-2010 season.
How the hell is that OTHER NEWS?!?!? Compared with the rest of the column, it was THE NEWS!!!
Of course Pergament saw things differently. He thought the most important news to come out of Sabres management yesterday was:

• Rob Ray will be only at ice level providing analysis on MSG during home games.

• Maria Genero has joined the staff of the National Hockey League team to work with Kevin Sylvester and Mike Robitaille on features that will air on Sabres TV via the team's Web site, Sabres. com, and on MSG during intermissions and in a weekly magazine show.

• The MSG postgame show, "The Shootout," will air only after home games. On road games, Sylvester will do a five-to-seven minute wrap-up with player interviews and highlights.
Does this guy not watch hockey? Does he not understand what Jeanneret means to Sabres fans? Somehow Rob Ray, Maria Genero and Kevin Sylvester rank higher for him? Are you shitting me?
The only Sabres news that ranked lower in the story was that 66 percent of the games on MSG will be shown in HD by 2012. I'd still say that's a bigger deal than Maria Genero joining the team to work on web content.
Of course, Pergament is the same guy who served as the Buffalo News "radio analyst" for years, constantly forgetting that WLVL in Lockport even existed. So it should come as no shock to me.
I know there are people out there who have problems with Buffalo News' sports department … but this piece was a piece … of crap.
(side note: Rumor has it that's the Sabres' new third jersey. I love it)