I know that some people aren't all that excited about Nik Wallenda of the Flying Wallenda Family walking a tight rope across Niagara Falls tonight, a spectacle that is expected to be seen by over 100,000 people on solid ground on the American and Canadian side of the falls, as well as by millions on ABC, which is covering the stunt live as part of a three-hour special.
What I don't understand is why?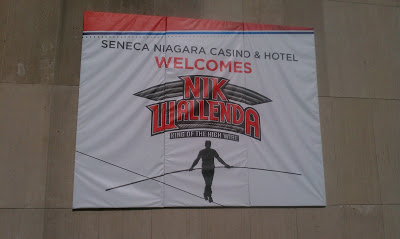 A sign outside the Seneca Niagara Casino has touted
Wallenda's upcoming walk for weeks.
I mean, seriously — how could this feat do anything but help this region? Granted, maybe it's not going to be worth the 400 bazillion dollars we're told it's going to be worth, but Niagara Falls — and as such, Western New York — is getting a free three hour commercial on national television. Plus we're getting exposure from international media because of the performance in addition to the many media appearances Wallenda has granted in the weeks and months leading up to the event.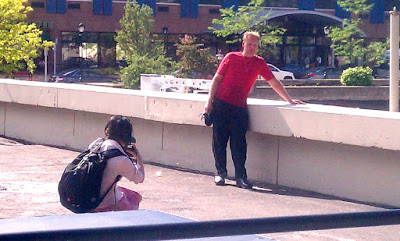 Wallenda offered to talk with anyone who took the time. He also posed
for pictures for anyone with a camera and granted media requests almost
without thought. His self-promotion has been impressive. If we can harness
that for the area, think of how much good that can do us.
Wallenda says he's dreamed of walking across the falls since his parents brought him here when he was six years old. I have no idea whether that's true or not, but it's a great story.
What I do know is that this is the most publicity Niagara Falls (WNY for that matter) has gotten for something that that wasn't negative in decades. The last thing of this magnitude was David Copperfield.
Let's hope that tonight's wire walk turns out better than the sham that was the David Copperfield event. I'm sure anyone my age or older remembers that the rapids shredded his equipment and proved Copperfield to be a fake. At least I believe Wallenda will actually walk across on his rope.
Some people took offense when Wallenda asked for donations to help offset his costs. Personally, I think it's a bit cheesy, but I'm hardly offended. And he's right to claim that local businesses on both sides of the border will see residual economic benefits for years to come.
Personally, I'm looking very much forward to watching tonight. And between now and then, I'll be reading and watching updates leading to the event … as well as casually playing a game called "Where in the World is Doctor Jorden?"

Wallenda tweet announcing #WireWalk as the official hashtag of tonight's event.