To the naysayers who want to believe that the Nik Wallenda wirewalk over Niagara Falls and into Canada doesn't matter, the following two photos are the twitter trending topics for the US and worldwide at 11:30 p.m. — nearly an hour after the completion of the walk.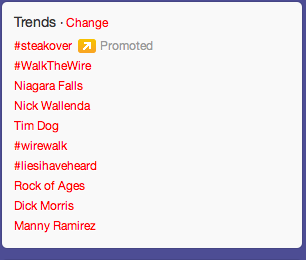 American trending topics include four references to the walk.
I have no idea what was trending during the walk, but I have to assume that interest faded at the conclusion. This just goes to show that there was interest in the event – and people watching it. And those who watched it were treated to a three-hour infomercial about Niagara Falls. The value of the publicity generated is immeasurable.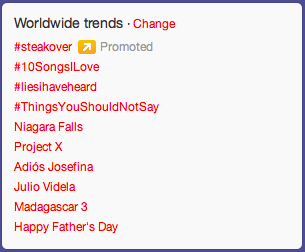 Worldwide trending topics include Niagara Falls.
Don't get me wrong, I understand that trending twitter topics is a fickle business. But for a while, the world was talking about Niagara Falls. And on ABC, we looked good. I'm hoping that the commercials just before the walk began from Niagara-USA Chamber and the Seneca Niagara Casino ran in more than just Buffalo. I'd hope they focused some advertising in Cleveland and Pittsburgh and maybe even NYC.
Long story short — we looked good tonight. I hope we can capitalize on it.