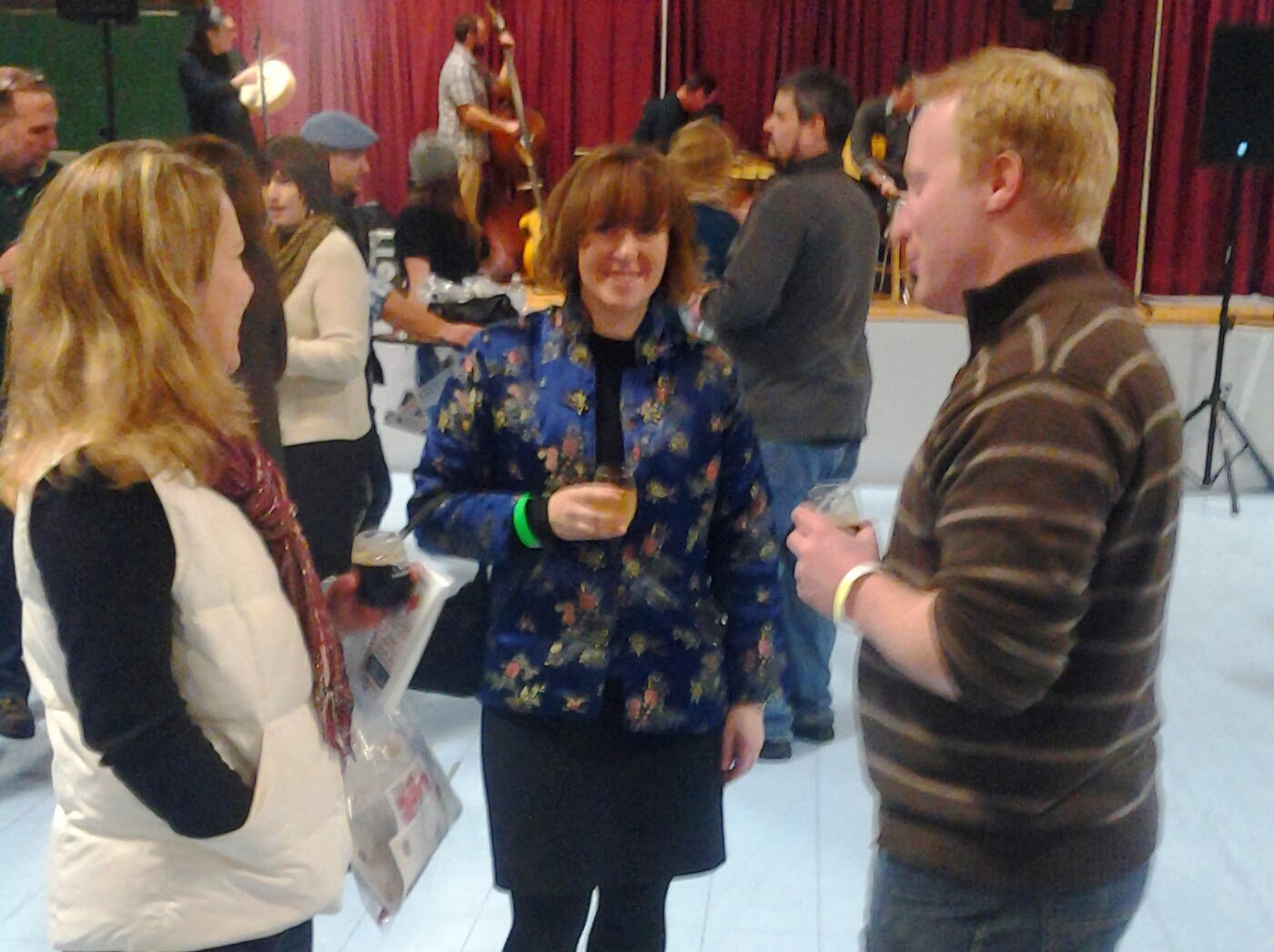 Heather talks with Lockport Economic Development Director
Chuck Bell and his wife, Katie at Saturday's Niagara Wine &
Beer Tasting Fest. This conversation lasted longer than the
Timkey Limousine $16 cab ride to the Kenan Arena.
I'm not usually one to publicly bash or berate local businesses. Today is different. And the business deserves it.
I'd been looking forward to the Niagara Wine & Beer Tasting Festival at the Kenan Center for weeks now. I bought our tickets early online. Planned out what to wear. And carefully constructed a timeline that would allow Heather and I to have as much alcohol in our allotted four hours as possible.
At $25 a ticket and a total of 23 wineries and breweries to sample, it was really a great deal. And I was pretty sure we were going to get legally intoxicated and then some. So … we decided to do the responsible thing and take a cab.
Around 4 p.m., I called Timkey Limousine and asked for a cab to pick me up at my home at 5. The woman who answered the phone told me the best she could do for me was 5:30 or quarter to 6. There were a lot of people getting cab rides to the Kenan Center, she said.
Around 5:15, a driver pulls into my driveway and honks his horn. I went out and told him he was early. I said I was told 5:30 or quarter to 6 and had adjusted my schedule accordingly. He said he'd go get another route and come back to take us to the Kenan Center, which he did.
I give you this background to illustrate the fact that the cab company was both busy and accommodating.
Heather and I jumped into the cab en route to the Kenan Center and I told the driver that we had to make a slight detour on the way. I needed cash and the M&T bank on the corner of Pine and Genesee was practically on the way. By practically on the way, I mean it was a few blocks out of the way. In all, it added 4/10ths of a mile to our trip.
The driver warned me that it would cost me an extra $3, which seemed silly to me, but whatever. My $8 1.1-mile cab ride just became an $11 1.5-mile cab ride. Except that when we got to the bank, he informed me that the woman on the other end of the phone told him that it wasn't an extra $3. It was an extra $8. Because it wasn't a stop along the way, but rather a detour out of the way. In other words, it was a $16 1.5-mile cab ride. That's more than $1 per 10th of a mile.
Timkey Limousine charges $8 for anywhere in the city to anywhere else in the city. From the city to the town or vice versa, it's $9. So a trip from the Wastewater Treatment Plant on West Jackson Street to Skateland on Lincoln Avenue (5.8 miles) will cost you $8. But my mile and a half trip was $16 – $20 after the tip.
Now, should I have gone to the ATM and gotten cash earlier? I guess. Except … no. It's complete bullshit. And someone has to call them on it.
I've known Bill Timkey for years. I've always thought him a decent human being. He's been very helpful for the city of Lockport over the years. But $8 for a 4/10th-mile "detour" is wrong. Next time, I'll find another cab company.