The above cartoon provided by GetLiberty.org. It's ironic because it shows that our elected officials are out of touch – which I certainly believe to be the truth – but this blog post is about elected officials using the internet – Twitter, specifically – to stay in touch.
A Texas congressman is fighting an archaic rule in the US House which prevents congressmen from doing things such as posting to Twitter, without identifying each post as coming from a member of Congress and stating that it is official business.
For Rep. John Culberson, a Texas Republican, the rules amount to a virtual gag order. Culberson opened a Twitter account to help him stay in touch with his consituents. Because the microblogging service allows only 140 characters per post, adding the required language is almost impossible. Faced with an official crackdown, Culberson began working to change the rules. "Send to all: Congress, change the rules," he posted on the site this week. "Talk to us on our social networks. http://LetOurCongressTweet.org Let our Congress Tweet!"
I think it's pretty cool to see Congressmen get involved in something like Twitter … or MySpace or Facebook. Several of our local representatives have either MySpace or Facebook accounts. And at least one presidential candidate has a Twitter account: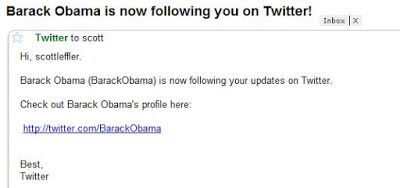 Yeah. It's for real. Click the image and it will take you to his page where you can follow Barack.
In the end, I have to tell you, I think it's cool that elected officials are trying to use the internet to reach out. I just hope that the communication is a two-way street and that they realize they can use the internet to LISTEN, too.